Reading Time:
5
minutes
Yong Hong is the CEO and co-founder of Greendot, a fast casual dining chain that serves healthy and contemporary Asian meatless meals. He is in charge of the daily grind at Greendot and aims to continually develop his team into the next generation of leaders. He believes that a clear vision and strong family culture is the key to happiness in the workplace.
Editor's note: This interview is part of Talenox's Guest Interview series. This particular series is with renowned individuals in the F&B industry. In our second installation, we talk to Yong Hong about talent management in the F&B industry and how internal branding is core to running a business like Greendot's.
Yong Hong, thank you for taking some time from your busy schedule to answer these questions. I'm sure your answers will help many people out there – especially young entrepreneurs in the F&B industry or those who aspire to start one someday. Let's begin with a simple question – what do you hope to achieve with Greendot?
"We are trying to help people understand what it means to love themselves through the food they eat. We do this through Greendot's food and beverage offerings as all of our products are nutritious and healthy. Many people see us as just a quick-service restaurant selling meat-free meals. However, what we really want to do is to sell the concept of self-care by eating the right food and in being the right environment."
That's heartening. What do you think is the most important aspect of Greendot's operations that help promote this?
"I think it definitely has to be the people. The people we have at Greendot makes a huge difference. We place great effort into selecting and hiring the right people. It's not about their experience, their age, or their background. Instead, we look for what constitutes their heart. In Mandarin, we say it as, "三颗心" , which means "three hearts"."
Tell me more about the "three hearts".
"Sure. The three hearts are:
用心 (giving your 100%) - we must prepare every meal as though we are preparing for our loved ones. We ask ourselves, "If you were to serve this bowl of noodles to your mother, would you be proud to serve it?" If the answer is "yes", that that's what we want.
关心 (care for others) - we look for people who are team players. At Greendot, we are like one family. Everyone has their roles and responsibilities but we emphasize helping one another as though they are your kin.
爱心 (positivity & kindness) - we look for people who are positive and kind. We hope to be able to spread these traits to the people around us – including our customers, through the food they eat and the service they receive."
Many businesses in the service line face problems with attracting and retaining talent. Why do you think this is?
"I think it's because they care too much about the numbers and seek short-term solutions to their problems. They don't think long-term enough to create an environment where people will want to continue working. For example, I found that many locals prefer not to work long hours and weekends. With this, we must ask ourselves how we can create the flexibility to allow for staggered shifts, while not compromising the manpower needs especially during the weekends.
We also try to incentivise locals by allowing them to rest on certain weekends and giving additional pay for those who work nights. Hiring locals can be quite challenging. Another group would be young local talent, such as fresh graduates. Many don't see F&B as a long-term career and industry to be in. We have recently launched a program, aiming to attract young graduates. I hope the program will change their mentality and perception of the F&B industry."
I hope you achieve that vision. It seems like you really care a lot about your people.
"Yes, my people play an important role in delivering a good F&B experience. I find that it comes full circle. Your staff plays a direct role in interacting with the customers. Therefore, you should aim to treat your staff the way you want them to treat your customers. Your customers will be happy from being treated well, and hopefully treat you well (by returning next time, by complimenting your food and your staff, etc)."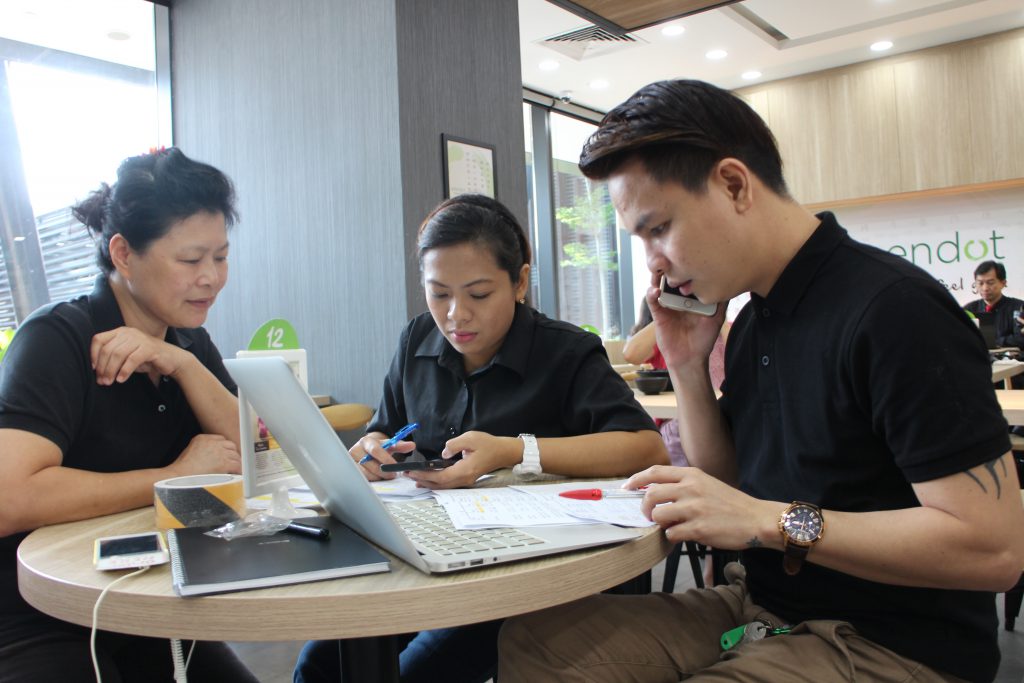 What do you do to create loyalty in your staff and make them happy?
"Haha, "三颗心"。Okay I'm kidding. Although I am going to mention three components again. "
What are the three components?
"They are: 1) Satisfactory pay, 2) the Feeling of Appreciation, and 3) Personal Growth. Regarding Personal Growth, I believe that it is important for leaders to constantly help their people to develop their abilities and provide sufficient challenges for them to grow. With this, we do a lot of role switches to allow for our people to explore different roles within Greendot. Speaking of which, the company must also be constantly growing, especially its leaders. No employee will want to stick with a company or a leader that is stagnant."
Tell me about Greendot's Internal Branding.
"Branding is a communication of values. Thus, Internal Branding means to communicate the values that Greendot has, to all our staff. This builds the culture we have and creates alignment within the company."
What are some activities and processes you have implemented to cultivate Internal Branding?
"We have an annual awards ceremony where we give out awards according to the "三颗心" so we recognize and reward people for demonstrating those values. We also have "bonding funds" for all outlets to help organize events, such as celebration of staff birthdays. For individuals, we have a "taking care of yourself" fund, a benefit where staff have a yearly budget to spend on taking care of themselves – on medical checkup, on dental, on massage, etc. For corporate social responsibility (the 2nd heart), we recently closed our outlets for half a day and brought our staff to a senior citizens' activity center, where we collected and distributed daily necessities to the nearby rental flats. It made many of our staff very happy – the feeling of giving instead of receiving is very powerful. A lot of them are already asking me when the next event will be!"
Do you think many F&B companies are embracing Internal Branding? In addition, do you think it will be on the rise in the near future?
"I think there are few doing that. Hopefully there will be more. Actually culture can be a very strong differentiating point for a business and it is very hard to replicate."
What do you envision the future of F&B to be?
"I hope we can change young people's perception of F&B, and attract them to join the F&B industry. When I visited Taiwan, I learnt that Din Tai Fung managed to hire many young graduates. That inspired me.  For Greendot, I foresee that we will be able to build a positive community for each outlet."
Looks like we've come to the end of our interview. Thank you so much for your time. Before we end, allow me ask you one last question – If a kid walked up to asking for your advice in life and you only had a few minutes to give them your best tip, what would it be?
"Focus on who you are becoming rather than what you are accumulating."
Fancy some dessert after your meal at Greendot? Check out Yong Hong's casual and vibrant dessert chain, Smoothie House, offering Taiwan's most popular mango shaved ice. The new flagship store is at Westgate, a family-centric mall in Jurong.