Reading Time:
4
minutes
As the holiday season approaches, we know many of you are planning to use that annual leave to spend more time with family and friends. So, we've written an overview of the different statutory leave types and requirements that are available in Hong Kong, starting with Annual Leave. 
Annual Leave

Good to Know: Annual Leave Entitlement
Employers may:

a) select a period of 12 consecutive months as the common leave year for all employees e.g. 1 Jan to 31 Dec, or
b) select any period of 12 months commencing on the day on which individual employment commences and an anniversary of such day.
Employees employed for under 12 months in the common leave year receive their leave entitlement on a pro rata basis, rounded up to a full day of leave. Employees may use the  granted pro rata annual leave before the start of the next common leave year or allow it to be brought forward.
We've written a detailed guide on Annual Leave requirements and applications. Read it here.
Sick Leave
Good to Know: Sick Leave Payment Calculation
The daily rate of sickness allowance is calculated as 80% of the average daily wages earned by an employee in the 12-month period preceding the first day of sickness. If an employee has been employed for fewer than 12 months, the calculation is based on the shorter period.
The allowance should be paid to the employee no later than the normal pay day.
Read our detailed guide on Hong Kong's Sick Leave requirements and payment
Maternity Leave
Good to Know: Applying for Maternity Leave
A pregnant employee can decide to start her maternity leave from two to four weeks before the expected date of confinement. If the employee does not decide on the date, or fails to secure her employer's agreement, her maternity leave shall commence four weeks before the expected date of confinement.
Maternity leave will commence on the date of confinement if it occurs before the scheduled maternity leave. The employee should give notice of the date of confinement and her intention to take 10 weeks of maternity leave to her employer within seven days of her confinement.
Check out the Talenox guide to Maternity Leave in Hong Kong
Paternity Leave
Good to know: Notice Period for Paternity Leave
An employee must give notice of his intention to take paternity leave at least 3 months before the expected delivery date of the child. If he fails to do so, he must notify the employer at least 5 days before the leave commences.
Also, good news for fathers – you'll soon be able to enjoy 5 days of paternity leave soon.
Read more about Paternity Leave in Hong Kong here
Statutory and General Holidays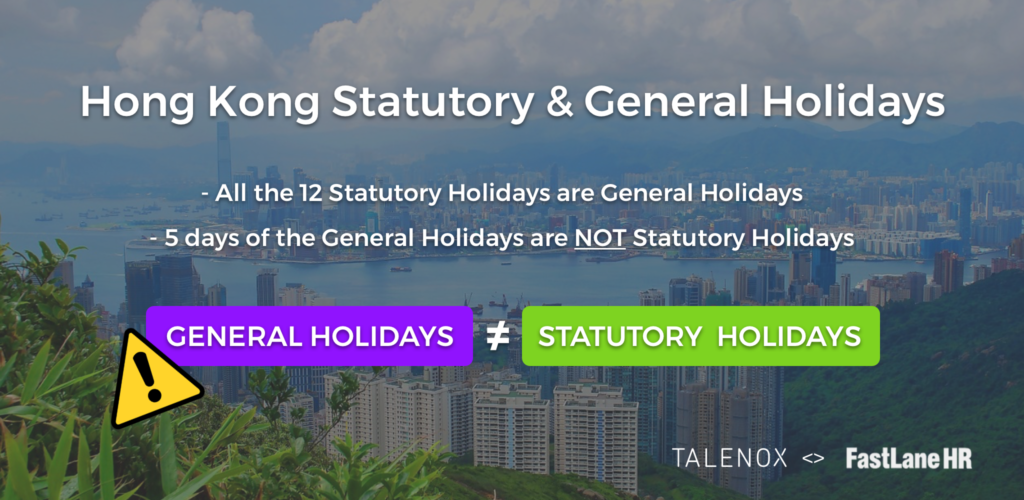 Good to Know: Working on Statutory Holidays
An employer may request for an employee to work on statutory holidays, but it is required that she/he gives the employee at least 48 hours' notice. The employer must then arrange a replacement holiday within 60 days before or after the statutory holiday. If the employer and employee agree, any day within 30 days of the statutory or replacement holiday may be taken by the employee as a substitute holiday. In this situation, we advise that employers keep records of such replacement holidays.
Learn more about statutory and general holidays in Hong Kong
For detailed info on how to use the Leave app on Talenox, we've put together a visual guide!
We've also created a section on our Knowledge Centre solely for our Hong Kong users. It contains useful information on all the Talenox apps, statutory regulations in Hong Kong, as well as pricing and subscription information. Browse around or search for a topic you're keen to find out more about!