Reading Time:
4
minutes
Toy-strewn rooms, unwashed dishes and piles of unfinished homework. That would send any parent's heart palpitating. That is why most of us are guilty of gluing kids to the iPad while we spend hours picking up clothes and mopping up the floor. Can you hear Santa tut-tutting in disapproval?
In fact, what we need more than anything else is to keep Christmas peaceful! And how we can do that is by equipping the kids with a good work ethic that will take them from ordinary to extraordinary.
Who better to do the job but the man every kid (okay, most) listens to – Santa Claus! After all, we want good habits and ethics like hard work to be second nature for our children.

So, what can Santa teach our kids (and us) about a good work ethic?
1. Teamwork has always made the dream work for Santa
Indeed, teamwork is what you need most, especially when you're part of an efficient world-wide delivery system that distributes toys and presents to over 2.2 billion children on Christmas Eve.
So how does Santa accomplish this feat each year? It's hard to imagine how he pulls it off while working alongside pointy eared staff with innately mischievous tendencies.
The key lies in Santa being a team player. From guiding mischievous elves to braving the cold with his fleet of reindeer, Santa has always been the most contributive team player in the workshop. After all, the most effective way to teach playful elves (and kids) teamwork is to show that you are a great team player yourself.

You also want to be a team player who walks alongside your team. Not that boss who barks orders and waits for results.

So whether it's putting the toys away or preparing a school lunch, work with your kid whenever possible. After all, when you give your child the ability to work well with others, it almost always opens new opportunities and progression in school and in the working world.
So whether it's putting the toys away or preparing a school lunch, work with your kid whenever possible.
2. Diversity, inclusion and respect matters to Santa
This is the reason why Santa's team of reindeers works so well. After all, they are all quite diverse with their talents. Take for instance, his turbo-charged reindeer Dasher and level-headed navigator Donder. Together, they run an efficient delivery operation that takes on strong headwinds with ease.
And then there's Rudolph, with his shiny red nose illuminating the dark to guide the sleigh through foggy winter weather. So what if the other reindeer scorned Rudolph for being different? Santa chose to see the inherent potential in Rudolph's distinctiveness instead. And the team benefited from Rudolph's contribution to their Christmas journey!
It's evident here that Santa embodies the spirit of meritocracy (and not a clique nor an oligarchy) in his workshop. So, it goes without saying that working with a diverse team plays a fundamental role in Santa's continued success.
All in all, a team that respects diversity will cultivate productivity (whether it's a family unit or an office department). Santa encouraged his reindeer to respect each other's differences and value each other's strengths. Do the same! Show your child how you express gratitude for each family member's strengths and contributions to the team.
It's worth noting that while we assess each family member's different strengths, we would make the effort to observe our kids' capabilities as well. Then, assign tasks that would build on their strengths to help them better understand the satisfaction of making significant contributions to a team. This would inadvertently cultivate a spirit of helpfulness and initiative in them (and us), thereby building on their work ethic.
Show your child how you express gratitude for each family member's strengths and contributions to the team.
3. Responsibility built Santa's credibility
This is why Santa holds a special place in all of our hearts.
He has always kept to his key promise – ensuring Christmas stockings are filled every Christmas Eve. And it is the work Santa and his team put into the months leading up to the holiday that makes this yearly feat possible.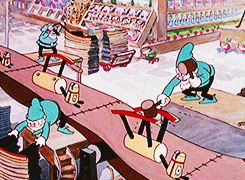 The thing is, kids and elves thrive on order.
So, set up a routine that they can work towards accomplishing together with the team! This could include preparing meals and completing assignments together, before finally settling down to enjoy TV time.
Establishing a routine won't just help everyone meet their responsibilities. It will also help your child internalise the ability to structure his or her own life and be more responsible.
From payroll processing to leave management, meet HR responsibilities in the office too.
Nominated "Best Payroll Software" by HRM Asia, our cloud-based HR software Talenox helps businesses like DBS Bank:
Manage leave with ease; and

View and edit employee information quickly and easily from a central location/dashboard
Sign up for a FREE TRIAL as a new company administrator. Be-claus it's worth it.
---
Read more articles about business philosophies and values: