Reading Time:
4
minutes
Editor's note: This post has been updated several times to detail recent occurrences. It was first written on September 9, 2014. The latest update was made on June 7, 2021. Originally written by Gordon Ng. Revised editions by Jesslyn Phoon and Wong Hern Yee.
The idea of Talenox was first conceptualised by Edwin and me around Oct 2013. We found that many enterprises were tired of working with old-school legacy platforms, as they "were tough and complicated to use", according to feedback from one of our prospects. With this, we decided to be the ones to solve their problem, by creating a platform that was suitable for these businesses. However, it was a huge task to take on.
Together, we saw the birth of Talenox – the better HR Software as a Service (SaaS) platform.
Talenox Versions 0 through 2
Even though we started out as a Human Capital Management (HCM) solution targeted at enterprises, we soon realised that as our clients' needs evolved, so did we. Not only did we have to adjust with the needs of the market, we also needed to adjust to the current resources we had – time, money, and people.
Version 0 came in the form of prototypes and eventually resulted in a Minimum Viable Product (MVP). Like most startups, we applied Eric Ries' "Lean Startup" model. With Version 0, it was about seeking continuous feedback and improving the product. We couldn't get much sales with such a lean product, especially when it was challenging enough to go door-to-door and make cold calls, only to be rejected most of the time. Fortunately for us, we managed to close a big deal and a few smaller ones shortly after. To us, it was pure validation that we were on the right track.
Version 1 appeared in July 2015. This was when we sat down, rebranded, and decided that we were going to be the best Software as a Service (SaaS) in SEA. We cut down on some of our main product features, so as to focus on the ones that mattered most. Our marketing efforts shifted to become heavily focused on building online presence and credibility. At this point, we knew this was a big move to make and big risk to take — but we were optimistic that big moves would reap big rewards. True enough, they did.
Version 2 is an upcoming, more sophisticated Version 1. Still operating as a SaaS, we aim to make this version a blueprint for global expansion.
The Clients
We can't emphasise enough how our clients play a pivotal role in providing crucial feedback to help us improve constantly. Some extremely patient clients even saw us through from Version 0, and are with us till today, looking forward to Version 2. We make it a primary business function to obtain regular feedback from our clients so as to become better everyday.
We now have an expanded network of clients under our new Partners programme:
Payroll Experts (HR and Accounting Outsourcing Providers whom we partner to manage their clients' payroll),
Affiliates (brands who are keen to participate in co-marketing efforts),
If you are interested in joining the Partners programme, check out our Affiliates page for instance.
The Team

Our search for the right people was heaven's blessing to us. Through personal referrals and past working relationships, we managed to find talent that would help kickstart what Talenox aspired to be, and what it would eventually become.
Even though we did not have enough finances to recruit them at first, our initial team was motivated by everything Talenox had to offer but money. Almost all our team members at the time worked for us in the form of unpaid voluntary work, projects, internships, and part-time work. That was a good way to build mutual trust and understanding before full-time commitment. I believe we found the kickass team we needed in just a matter of 2 years.
From left: Sebastian, Dan, Anonoz, Gordon, Andy, Edwin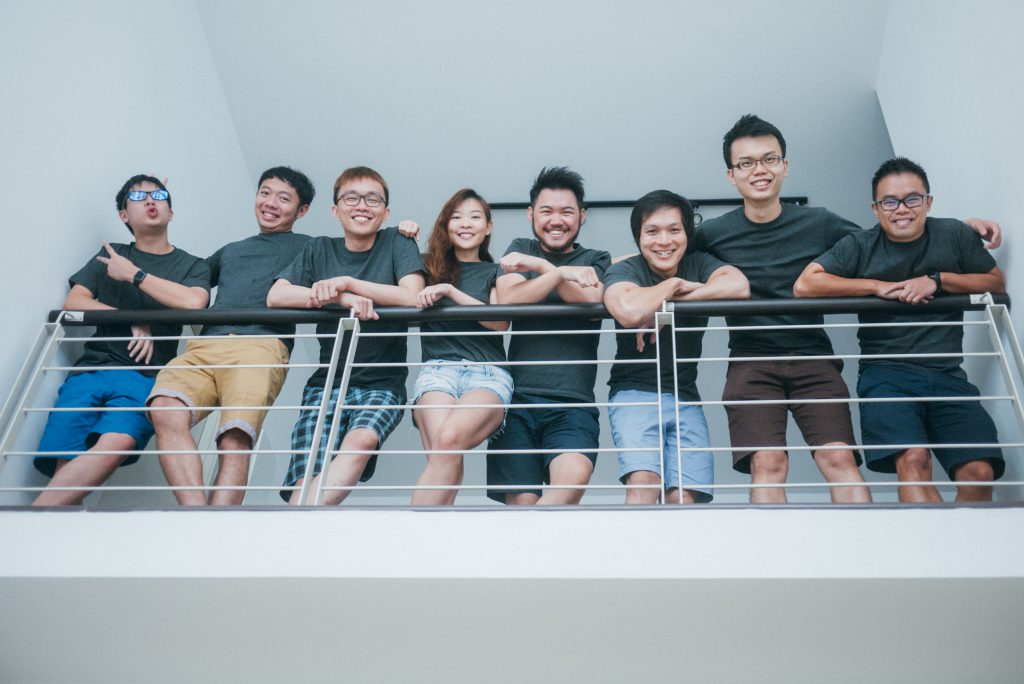 From left: Anonoz, Edwin, Hong Pang, Jesslyn, Andy, Sebastian, Gordon, Shao Ming
*There are some team members shown in the pictures who are no longer with us. We will always recognise their work and contribution to Talenox. Without them, Talenox would not have made it this far. There are also some team members missing in these pictures (we don't have a habit of taking photos in general, we're quite camera-shy).

We're still getting there
Talenox is still growing to become the best HR SaaS designed for people first.
We're constantly on the lookout for great talent.
We believe that everyone is unique and has different skill sets.
We love to work with people who are smarter than us to solve really tough problems.
If you know of someone who's interested in joining us (or even yourself), do leave us a comment below.
P.S. There's a lot of exciting development in the next few months, so stay tuned! If you like to read more about Talenox, subscribe to our online newsletter now.
Here are additional reading resources you may be interested in:
Keep Talent That Will Go the Distance With You
How to Build a Kickass Team
Of Company Culture and Relationships