Reading Time:
3
minutes
When Talenox was first conceptualised, we had in mind a fully automated, completely intuitive software that would make running a company easier and more affordable.
First, we turned everyday administrative HR processes such as employee onboarding, payroll, and leave management into simple, easy-to-use forms with preset values, and then worked with banks and accounting software companies so that payroll and accounting could be done centrally from our apps. We also made sure to pay attention to aesthetics and readability.
Then, we made it easy for non-HR professionals to use Talenox by making it accessible on the cloud, user-friendly, and charging only $6 per month for each employee.
Despite this, we've realised that many companies are still using Excel, Google Sheet, and even pen and paper to calculate payroll.
As this isn't in line with our vision for the SME community, we've decided to release a free version of our software. With Talenox FREE, SMEs owners and HR professionals will not need to worry about cost, can ensure payroll accuracy, and employees can now have access to their own payslips.
To further help SMEs, we've kicked off a monthly series of HR Tech clinics. With these free workshops, entrepreneurs, managers, and HR professionals not only get to learn how to manage payroll and leave, they also learn about the latest updates regarding manpower and human resource issues, as well as employment and tax stipulations.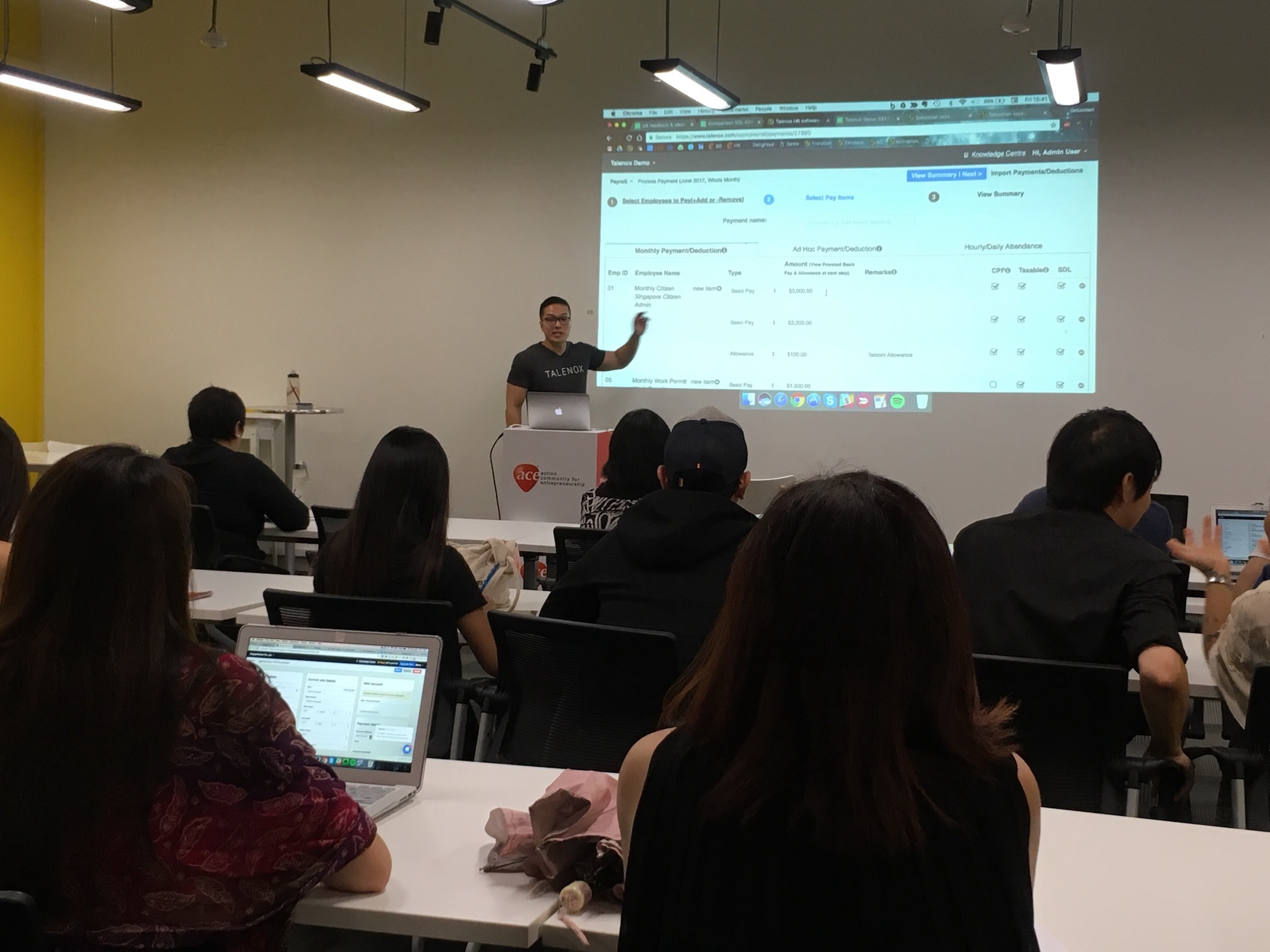 User Happiness Lead Sebastian Kang at our HR Tech Clinic in June
For whom is Talenox FREE and Talenox PRO?
Talenox FREE is great for you if:
You're manually typing up your employees' payslips every month

You're currently using a spreadsheet software to run your company's payroll

You want a general feel of the Talenox environment first

You're not sure of the latest employment and tax regulations and would like some help with that
Talenox PRO is perfect for your business if:
You use Xero or QuickBooks Online to manage your accounts

You want to manage and approve your employees' leave and payroll without the paperwork

You want a quick and convenient way to submit employee tax and provident funds/superannuation files online
What are the features of FREE and PRO? And what's the difference between the two?
In a nutshell, Talenox FREE includes the basic features of Payroll and Profiles, while Talenox PRO includes the basics plus all the power functions, such as integrations with Xero and QuickBooks Online, as well as the Leave app. Have a look at the pricing guides for Singapore- and Hong Kong-based companies:
Pricing Guide – Singapore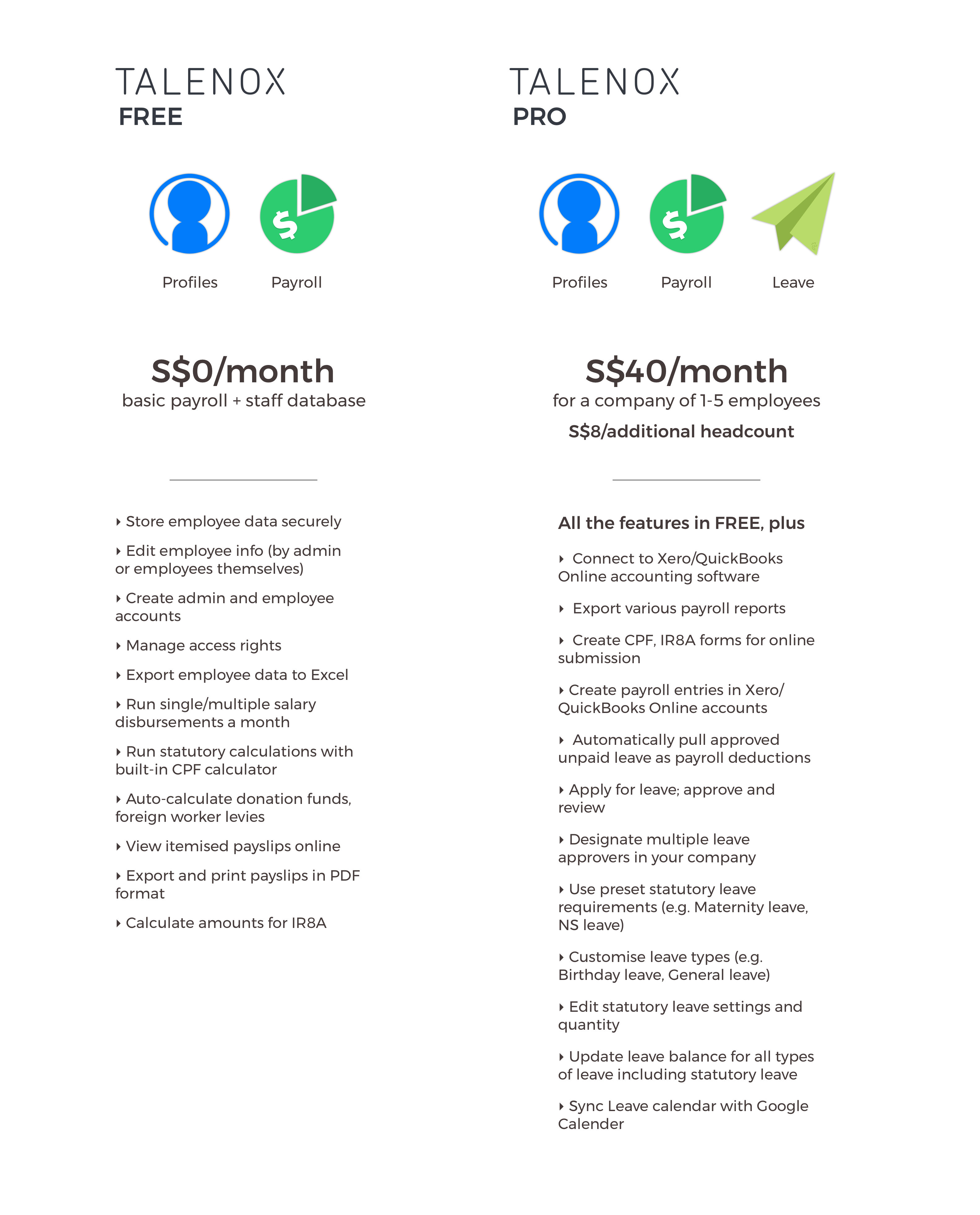 Pricing Guide – Hong Kong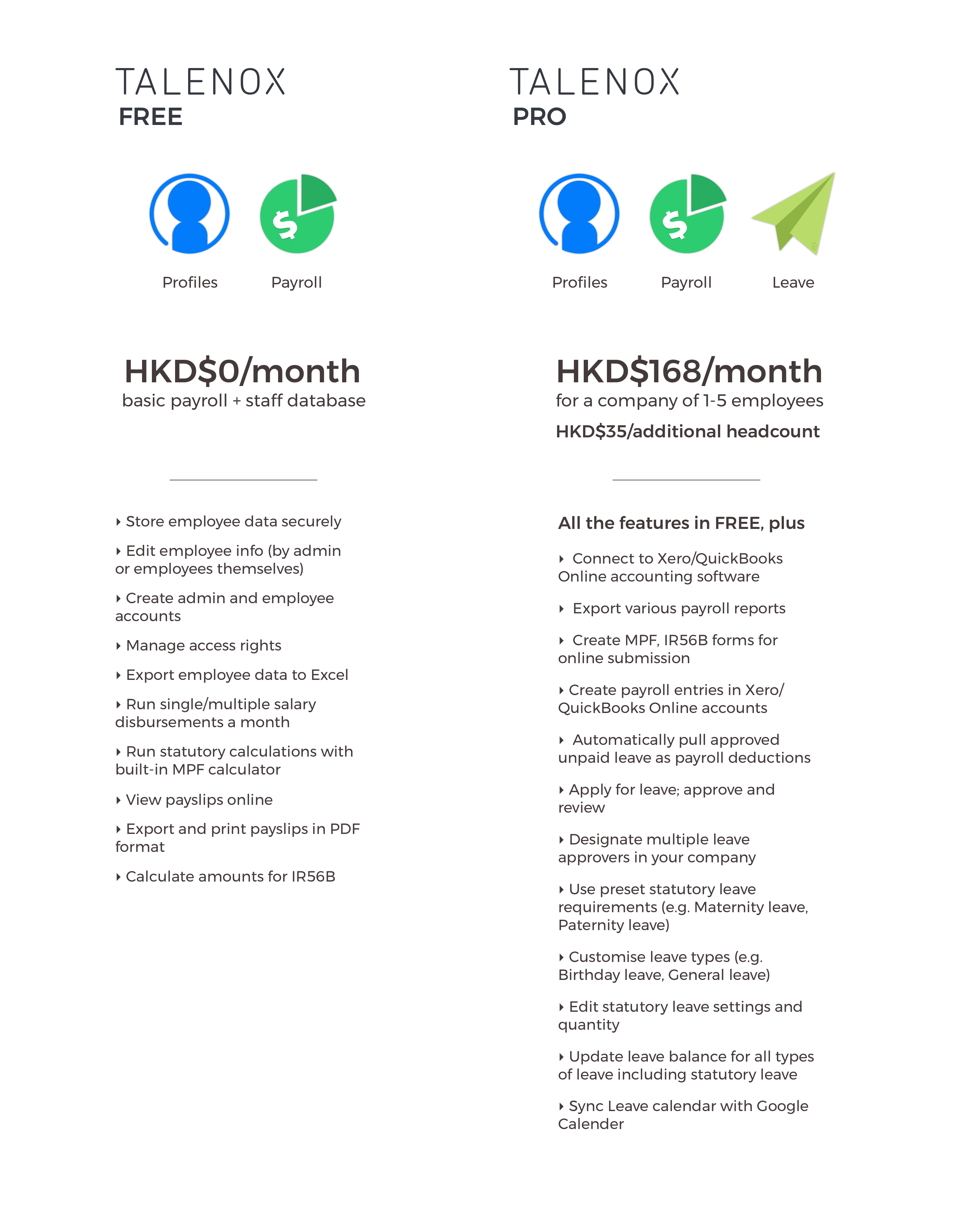 In addition to those features, Talenox PRO includes :

a lower monthly cap now at SGD$400 (SG) and HKD$3500 (HK), so you don't have to worry about Talenox becoming unaffordable as your company grows

a discounted rate for part-time staff (hourly/daily rated) – 50% off that of a full-time employee. This means that you won't be charged disproportionately for staff who work fewer hours

a no-charge for employees who have worked less than 14 days
For more information, head over to our Pricing Page, which includes an FAQ. For Hong Kong users, click here. If you've got questions, say hi to us at hello@talenox.com and we'll get in touch as soon as we can.