Reading Time:
4
minutes
This is a guest post by Braet Elliot of Hive Up, a digital platform that aims to make managing insurance easier by equipping business owners and individuals with the tools,  knowledge and resources to make informed financial decisions. Visit them at www.hive-up.com
by Braet Elliot
If you're a business owner or a HR manager, it's likely that corporate insurance has, at one point or another, crossed your mind. You might have blown away the thought, or just shivered at the intimacy of the topic. There are just so many things that a business may face on a daily basis that contemplating what insurance is needed to protect it might have just scared you away.
Of course, the government has kind of made your life easier by taking on this onerous task, through its MediSave and MediShield Life regulations. A pseudo-insurance provision designed to subsidise medical treatment in public hospitals for Singaporean & Singapore Permanent Resident employees, MediShield Life helps Medisave account holders and their dependents meet the cost of large hospital bills and selected outpatient treatments. The employer contributions you make to the MediSave account help facilitate this process.
However, the big question is, is this enough? With rising healthcare costs, subsidising these costs may not be enough, especially in the event of complex surgeries, and your employees could greatly benefit from employer provided group insurance. As part of an employee benefits package, providing these additional perks will help your company to:
Become a more attractive employer. Highly skilled and sought after candidates will judge your offer of employment on more than just salary. Offering a good employer provided health care plan will increase your company's' appeal against others.
Reduce turnover. A low staff turnover rate is essential to ensuring your business runs without interruption. Staff retention is also important for growing a team of senior leaders within your company, so providing healthcare benefits shows that you value their contribution and wish to see them stay with you long term.
Improve company morale. When an employer can help ease personal stresses, employees will begin to value their jobs more and, with people being loss averse, the idea of leaving and risking not having insurance can help keep your staff on board.
Healthier, more productive workforce. Take a sick leave once a month and we are looking at about 2.5 weeks of lost productivity in a year. Multiply that by the number of employees in a company and you get to a figure that is staggering, not to mention, costly. Most people work in teams and having absentees means coping with delayed meetings, slower email replies and a general reduction in productivity.
The benefits your company stands to gain from offering corporate benefits can be a lot more than what you spend. A well-planned investment made into employee well-being would translate into higher quality work for the company.
A simple way to provide local employees more is through portable medical benefits. These are win-win methods of providing medical coverage for your employees. They benefit because these schemes are designed to be independent of employers.
Additionally, as an employer, you stand to gain through tax grants! Employers can choose from 3 portable medical benefits options (see table below), and implementing any of these 3 portable medical schemes entitles companies to receive a higher tax deduction for medical expenses of total employees' remuneration.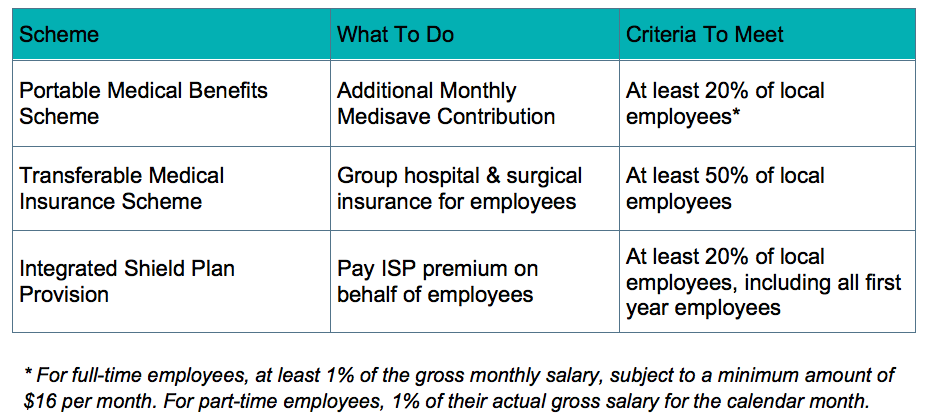 The biggest downfall of MediShield Life and the above schemes is that it only provides limited coverage.
MediShield Life only covers any hospitalisation or surgery costs. Amongst many others, GP visits, dental treatment & even accidents are not covered under MediShield Life & ISP plans. Benefit your employees by offering them coverage from such insurance policies. Constantly review the group policies to stay relevant and avoid providing redundant insurance coverage.
A blanket statement to say that group hospitalisation and surgical (GHS) is not useful because of MediShield Life & ISP would be inaccurate. Companies that have a high ratio of foreign talents would find GHS important, since foreigners are not automatically covered under Medishield Life.
Local or foreign employees aside, it is important to consider the nature of the job your employees are employed.
Each industry and job scope exposes employees to different types of risks, and employees would appreciate the fact that they are covered for these risks by their loving employer. There are corporate insurance packages for all types of insurance, including that of life, long term disability, wellness (you know, the one you compensate employees for medical bills incurred when visiting the GP), business travel, and more.
You might be thinking about the cost in insurance too! However, many SMEs overlook the fact that the costs can be tailored to suit your resources. Employee benefits can be designed in such a way that they can be co-funded. What makes this option attractive is that corporate insurance for employees is often cheaper that having an employee purchase personal insurance on their own. You may choose to design a corporate insurance structure that can be fully funded by the company, partially funded by the company, or voluntarily paid for by the employee. While some monetary costs are of course transferred to the employee, the fact that you are willing to design a comprehensive coverage structure for employees goes a long way to show that you care about your employees. In a cut-throat corporate environment, caring for employees by providing wealth protection through insurance goes a long way, and employees will treasure it.
How you tailor your insurance coverage is highly dependent on the risks that your employees and business is open to. This is often difficult to pinpoint, and reaching out to experts is a great way to optimise your insurance coverage.
This is where Hive Up steps in. As an insurance marketplace, Hive Up can help you tailor your insurance to match the needs of your business and employees, as well as provide you & your employees with the tools to manage them efficiently. For more information about anything insurance, please visit https://sg.linkedin.com/company/hive-up, or email them at contact@hive-up.com.